Get The Training You Need
Start by selecting your preferred way of studying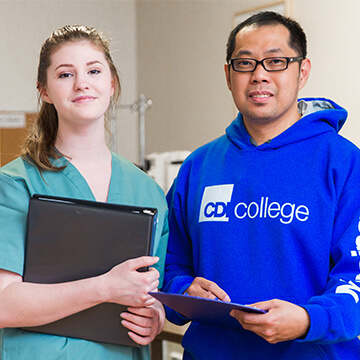 Welcome to CDI College
For more than 50 years, we've watched our graduates embark on careers rich in opportunity. Our programs are designed to prepare you for your new career with practical, hands-on learning experiences delivered by practitioner-instructors who combine years of industry experience with exceptional instructional abilities. As one of Canada's premier career-training institutions, we offer solid, market-driven programs that help our students develop the skills that are most in-demand by employers in multiple industries.
Jumpstart Your New Career
Train in a school that can help you achieve results! CDI College consistently delivers world-class education, helping students achieve success in their new career paths. Contact us today to find out how we can help you achieve your goals.
Recognized Programs
Recognized Programs
Our programs have received recognition by regulating bodies nationwide to ensure the highest quality of education is delivered to you.
Practicum Placements
Practicum Placements
Many of our programs include practicum placements so you can get the skills and experience you need to excel in your new career.
Small Class Sizes
Small Class Sizes
We pride ourselves in our small class sizes. Students are able to easily address questions and concerns as well as receive immediate, focused feedback.
Hands-on Training
Hands-on Training
Get hands-on training in our state-of-the-art labs so you can hone the skills you need to succeed.
Experienced Instructors
Experienced Instructors
Be job-ready with help from our industry-experienced instructors.
Accelerated Training
Accelerated Training
Get accelerated career training from our market-driven programs, many of which can be completed in a year or less.
What Our Grads Say
Elizabeth M.
CDI College Graduate
---
"If not for this program and CDI College, I wouldn't have become the person I am today. It's helped given me a sense of direction, maturity, and a sense of personal development."
Kathrin S.
CDI College Graduate
---
"My instructors guided me through the things I felt least-confident in, and helped me see I could achieve anything I put my mind to."
Would you like to get more information?
Click the button to explore what's there for you